I spend lots of time thinking and talking about digital literacies for work, but a couple of things that happened yesterday in my personal life really made me stop and think about the emotional responses which technology-enhanced communication can provoke.
Firstly I had one of those weird moments when you hear a story about 'one family…' on the local grapevine and realise it's you. We live in North Bristol's nappy valley, and the population density of families with young children means there are great local facilities, but enormous pressure on local schools. So despite living less than 300 metres away from it, we failed to get a place for my daughter at my local school. This fact had got passed around, including to someone who hadn't realised that we no longer lived in our old house, which was right opposite the school. She was then telling people about the case of this family who lived right there and didn't get a place… I initially found this quite amusing, until I realised that a popular local blogger had then put this up on her facebook page, and lots of other people had happily weighed in with their opinions, including that we must have put down the wrong school, were silly not to appeal, etc. Now this really bothered me, and I can't quite put my finger on why – probably mostly because unlike spoken gossip, there's a lasting record of it which allowed me to read every word – and I ended up feeling like my online identity was somehow compromised, even though we weren't named.
Those of you who've heard me talk about digital literacy will know that I often use my mother-in-law in Slovenia as an example to show how personal motivation and need (in her case, to see her grandchildren) can overcome a lack of prior digital knowledge or skills. Having never touched a computer before last year, she now likes to skype video chat with the kids three or four times a week. Due to the aforementioned population density issue, our broadband is totally rubbish, especially the upload rate, so recently she hasn't been able to see or hear us properly. The outrage and annoyance this has caused – including a reluctance to just go back to using the phone – has reminded me of how quickly the use of digital technologies which are felt to deliver really key benefits can go from being perceived as an add-on to an entitlement.
A word that came up a lot at a recent institutional workshop on digital literacies was 'resilient', in terms of staff and student attributes, not just the technology itself. I do think that's an important part of digital literacies – although obviously staff and students should expect appropriate online behaviour of each other, and reliable service from the technology, there's a need to be able to take the rough with the smooth, accept the setbacks and look for work-arounds or ways to resolve the situation, rather than downing tools and giving up. How as institutions we develop that resilience in our students and staff is a key question, and one which has implications for employability as well as digital literacies.
I've had a few opportunities over the last week or so to hear about some of the great work that institutions are doing with students as change agents. At our Digital literacies: changing student practices webinar last week, we heard about the work that Exeter, Oxford Brookes and Greenwich have been doing with their students, or rather the work that their students have been doing with them! Between them, they're working with students at all stages from first years to postgraduates, having put processes and structures in place to enable the students to work as co-researchers, content creators, mentors (to staff and students) and educators, though events such as workshops. It's also a theme that came up at the Jisc assessment and feedback programme meeting last week, through the work at Bath Spa and Winchester and Queen's University, Belfast. Students as co-researchers is a particularly strong theme in those projects, with the students showing a strong interest in knowing what goes on inside the 'black box' of assessment, and helping to suggest innovative ways of working to meet the pedagogical and practical needs of students while understanding the constraints faced by staff.
I heard more yesterday from the students involved in the digital literacies and iPads projects at Greenwich, as part of a wider meeting on digital literacy and employability. Both staff and students described the student involvement in the projects as a win:win situation, as the projects and institution benefited so much from the student involvement, and the students who took part – and their peers who they interviewed and represented – also gained significant experience which is highly likely to boost their employability. I was most struck by a comment made by one of the students: that her involvement in the interdisciplinary research group has encouraged her to do things that she never imagined she'd be able to do. That for me seems to get to the core of what education should be about – enabling students to imagine – and then develop the skills and knowledge to enact – new ways of working that in this case benefit themselves, other students, and the wider institutional community.
A student change agent network has emerged from the work we've been doing with the digital literacies and assessment and feedback projects, and aims to offer a community for students working in this sort of role to share experiences, and for projects to share resources to help other institutions take up similar approaches in their own context. The community site is still developing, but can be seen at www.hei-flyers.org, and is open for students and staff to join the community. From the discussion in our webinar and on twitter afterwards, there is a lot of interest in this 'change agent' role, however weird the term initially sounds (I've embarrassingly become so familiar with it I've forgotten how it sounded all very James Bond when I first heard it.) There is also concern that the students involved should be properly prepared for and supported in their role, and that the recruitment of students to these sort of positions should be fair and transparent. These are themes that are being tackled by the network, along with the question of how and whether this activity should be accredited.
Student engagement is also a strong theme in our Changing the Learning Landscape partnership work, and the NUS have produced a useful planning document and guidance notes for anyone wishing to think through how students will be engaged in any new initiative: Involving Students in Change.
Previous Jisc-funded work in this area has been collated in the Design Studio.
Sometimes in Jisc you come across incredibly useful tools that do one thing really well. So much so that you wonder how you managed to do without it!
The eMargin tool, funded by Jisc and developed by a team at Birmingham City University led by Andrew Kehoe is a simple, user-friendly way to share and manage annotations on any text. It's perfect for critiques of papers (especially policy papers in my world), deep analysis of research publications, giving feedback on written work, looking at the structure of poetry or prose… the possibilities are endless.
After a simple sign-in you can use the web version: uploading, pasting, or grabbing text from the web and saving the resultant text plus annotations for others to work with. The code is on sourceforge so you can feel free to host your own implementation whereever you like.
The additional (benefits realisation) work done over the past year, allows – via IMS LTI – full integration with your institutional VLE. So rather than having to set up groups and sign-in at the application itself, you can just use what you have already done on your VLE. This feature, and the beautiful simplicity of the tool itself, has led to a whole range of departments and faculties (from all over the world, and from far beyond the initial project setting of English Literature).
For all the hyperbole and hysteria in educational technology, most of the best tools are developed by small, in-house units attached to institutions. What really shines through with eMargin is that it meets a clear need, and it is designed around the practices and expectations of learners and educators.
But go and have a play!
It's all been happening on the OER front recently, with a number of events and materials continuing the amazing work kicked off by the Jisc/Academy UKOER programme.
First up, Lou McGill, Allison Littlejohn and I delivered a webinar for Open Education Week discussing some of the findings of the OER Evaluation and Synthesis project. This has been running for three years in parallel with the main programme, developing and using an evaluation framework to capture what projects have been learning and research has been telling us.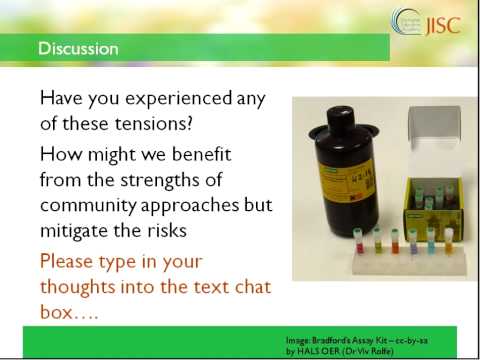 (and was that the mighty LanguageBox sneaking a webinar in there too? Recording to follow, we hope)
You can read more at the Evaluation and Synthesis wiki – this is still a "live" site being added to almost daily, as is the UKOER infokit. Unlike the former, the infokit is deliberately aimed at offering practical advice on the practice of working with OER. Lou McGill deserves plaudits for her sterling work on keeping both of these amazing resources up to date. She's also found time (how *does* she manage it?) to put together a guide to the growing body of terminology that has grown up around OER and related practice.
The same week saw the JISC CETIS conference in Birmingham, with a superb breakout session on OER and sustainability. Both Lorna Campbell and Phil Barker have blogged their impressions of the session, which featured presentations from a number of key people involved or associated with UKOER. Even ex-JISCer Amber Thomas came along!
CETIS and Amber have also (at last!) been able to release their book, "Into the Wild", which includes reflections on summaries on the key technological trends of the three years of the programme. You can download it as an .epub, via Kindle, you can even buy it as a proper book with a pretty cover.
It would be the perfect reading material (to prepare for a load of really interesting CETIS-related sessions) on your journey to OER13 if you are one of the more than 200 delegates gathering in Nottingham for this now-annual conference. Jisc and Jorum are proud to be headline sponsors, but the conference is largely self-financing and features an enviable range of speakers. Sessions will be recorded, and you can follow along on twitter using the #oer13 tag or @oer13 account.
And the Welsh are coming too! – with interest from the Welsh Assembly, and task forces and working groups a-plenty around the place, Jisc Regional Support Centre Wales are offering a programme of webinars on open education over the next couple of months.
The Jorum team, never ones to be left behind, have been doing a lot of work behind the scenes… updating and adding functionality to the UK's OER repository. These changes will make it easier for everyone to find, use and deposit materials.
Not bad for a programme that finished in October 2012, eh? And there is much more to come. UKOER is a neat demonstration of the way in which the effects of programmes continue long after the funding is gone.
And watch out for even more ukoer excitement next week!
You can connect with the community via the
OER-DISCUSS
mailing list or via the #ukoer hashtag on twitter. To keep up with the latest news you could also follow the
@UKOER
account.
The aim of this ongoing series of posts about the various #coursedata demonstrator applications is to give an overview of the different ways a standardised course data feed can be used. One of the use cases voiced when we were commissioning demonstration applications was that they might allow someone in a bus Queue in Bangalore to find a course. Whilst the CoMoBo app  is possibly more parochial, it builds on existing Mobile technology, and certainly allows a bicyclist in Banbury to find a course, and register upon it.
The demonstrator harvests XCRI-CAP data from Oxford Open Data (and potentially other sources in the future) and allows mobile devices to request data through an API. Built on a stack of Open Source code from OxCRI, Erewhon and OxCAP projects, It displays a searchable geo-sensitive course directory to students.
This is important in Oxford which has more graduate students than it does undergraduates, and offers a very large number of training courses, by departments, divisional offices and Doctoral Training Centres. The Oxford University Student Union (OUSU) 2011 Report on behalf of Post-Graduate Taught Students highlighted the need to make it easier for these students to access information about training opportunities and to enrol for places.
At the #coursedata event in Aston in January Tim Fernando presented an overview of the technologies deployed to meet this need, and was asked which parts of it were Open Sourced. The answer was "All of it". Check it out on Github:
I was lucky enough to have a workshop accepted at ARV13 this year, a European symposium in which participants attend linked workshops on themes in TEL research.


Although the workshop was not funded by Jisc, I took the opportunity to raise awareness of the Developing Digital Literacies programme, and especially the Exeter Cascade project which I have been helping to take forward. In my own session I spoke about the contribution we can make to building a conscious, critical approach to the use of digital technologies as a key attribute for graduates entering a digital world, and also a value that institutions should have when they invest in digital technologies and approaches.
'Critical' is a word that sees a lot of (over?)use in discussions of higher education and in the writing of course outcomes. What does it mean in relation to digital technologies? For me it has a number of aspects:
Repertoire – Being a skilled user of one device, service or system has its limits: critical use means moving fluently between systems and being able to confidently choose and adopt technologies as they become available. Repertoire also gives users a more discriminating approach to technologies in use, and allows us to develop practices 'against the grain' of technology's obvious intended purposes.
Creativity – Unless we are producing artefacts and representations in digital media we are unlikely to understand how digital media work on us as consumers. The 'student as producer' movement plays out in the digital sphere in important ways.
Play – Associated with creativity, we know that 'peer supported experimentation' is one of the best ways to become confident and familiar in a new environment, real or virtual. People need time and space to play with technologies in a low-stakes, complex environment without clearly defined goals.
Awareness – Technology use arguably implies a responsibility to reflect on the forces behind the screen. What real materials are our devices composed of and how are they sourced? What resources of energy are consumed for virtual services to be delivered? What relationships of production and consumption exist so that we can enjoy the apparently limitless capacities of the internet?
Safe and ethical behaviour – For me this is closely related to critical awareness. Rather than learning the 'rules' of safe and ethical behaviour online, a critical awareness of how digital systems work, how data is collected and used, how public and private are blurred etc allows us to develop our own values and negotiate them with others.
The overall workshop topic was TEL: the crisis and the response., and the aim was to discuss how technology enhanced learning has contributed to a number of crises we observe in formal education, and how it might also support helpful responses to crisis. The group involved in the workshop continues to collaborate on a number of writing and research projects including a special issue of linked papers, a proposal to ALT-C, and a contribution to the Grand Challenges for TEL Research (2013):  'How can TEL contribute to resolving educational inequalities?' Contact us via the blog if you are interested.
There were contributions from several people associated with JISC projects including Simon and Peter from Greenwich Digital Literacies in Transition, speaking about new pedagogies. On the third day we heard from other workshop groups and contributed to discussions on how priorities for TEL research are being shaped across Europe. The JISC community may be interested in outcomes from the workshops on 'Data Analysis and Interpretation for Learning Environments', 'Teacher-led Inquiry and Learning Design', 'Technology support for reflecting on and sharing experiences across contexts' and 'Establishing a European infrastructure for TEL'. This last was organised, like the Grand Challenges project itself, by the European TELEARC consortium. The Grand Challenges will be written up and produced in book form – more details will be available via the usual JISC mailing lists.
My slides on critical digital literacies (no notes) are here.
We are continuing to disseminate and discuss the work of the Assessment and Feedback programme and related projects through a series of webinars. The webinars are free and open to all and will be hosted in Blackboard Collaborate. Go to http://bit.ly/afwebinars for further information on the sessions and to register. You might want to bookmark/get feeds from this page for information on future events.
Using open source assessment and feedback tools
Friday 15 Feb 12-1pm
One of the strands in the Assessment and Feedback programme has been focusing on developing existing open source tools and adapting them for use in organisations beyond those they were developed in. As the projects draw to a close, this webinar will share some of their common experiences and findings. Some of these have been captured in a summary from Wilbert Kraan (Jisc CETIS), who has been supporting the projects. The session will include an overview of the work and presentations from the projects with opportunities for questions and discussion.
Peer review and the development of evaluative skills
Monday 18 Feb 12-1.15pm
The webinar will be led by Professor David Nicol. Peer review is defined in this webinar as a reciprocal process where students produce written feedback reviews on the assignments of peers and receive feedback reviews on their own assignment. Prior research has reported on the learning benefits of receiving feedback reviews. Very few studies have explored the merits of feedback production or the cognitive and learning processes that this activates. This is the subject of this webinar. Participants will first engage in a peer review task and will then reflect on, and discuss, the review process from different perspectives. Participants' reflections will be compared and discussed in relation to recent literature and studies of peer review. The assumption in this webinar is that an important task for teachers should be to help students develop the capacity to judge the quality of their own work while it is being produced (Sadler, 2010). This cannot be achieved merely by transmitting feedback information to students, even if the feedback is of high quality.
NB. In the first 15 minutes of this webinar you will be asked to engage in a short writing and reviewing task. Having an experience of reviewing will help you appreciate more fully the research findings which will be discussed, and the unexplored potential of peer review. We will ask that your written responses are submitted electronically. Anonymity of submissions is guaranteed and contributions will not be shared without permission. Spaces for this webinar are limited so book now to avoid disappointment.
Programme-focused assessment – the PASS project
Monday 25 Feb 12-1pm
Prof Peter Hartley will lead this webinar outlining the work of the HEA-funded PASS project. The project aimed to address the issue of designing an effective, efficient, inclusive and sustainable assessment strategy which delivers the key course/programme outcomes. Further details to follow although you can now register for the session.
A preliminary evaluation of the e-Feedback Evaluation Project (eFEP)
Friday 1 March 12-1pm
The aim of the eFEP project is to evaluate the use of spoken and written e-feedback when these modes of delivery have become standard practice within a Higher Education Institution. The evaluation focuses on current practice in modern languages at the Open University in terms of the quality of the feedback itself; staff and student perceptions; and student engagement.In order to test the extent to which the lessons learnt at the OU are applicable to non-distance learning contexts, we are also conducting a smaller-scale evaluation of the use of e-feedback at the University of Manchester. The aims of the session are:
• To outline the work done so far and plans for the next few months.
• To present the project's recent findings from staff and student surveys, analysis of e-feedback and 'feedback on feedback' exercise.
• To evaluate and seek feedback on the main evaluation tools used in the project (FACT analysis tool and 'feedback on feedback' approach).
• To seek feedback on current plans for staff and student training ('feedback alignment exercise')
The presenters are Maria Fernandez-Toro and Concha Furnborough from The Open University.
One of the issues I flagged up in the post about the w4 demonstrator  was the lack of CPD vocabularies.
Restricted vocabularies provide a way of making sure the meaning of data is clear.
Whilst xcri-cap provides a simple clear structure for setting out data about courses, it doesn't prescribe a particular vocabulary, as the specification itself could be used in a wide range of circumstances, and contexts. The #Coursedata programme however does have a vocabulary framework document which provides guidance on creating and publishing vocabularies for xcri-cap.
Due to the ambiguities of the English language, if for instance you were to search for decorating courses on Google using the term "stripping" some of the results might be unsuitable. (Don't try this). By using a controlled vocabulary, context can be assured, and also meaning understood, which should result in beter search results. However this is a complex area, as indicated by Netflix being happy to volunteer $1million for an improvement in search of 10%. http://www.netflixprize.com/
One of the #coursedata demonstrators the AX-S widget uses a lexicon of terms based on JACS codes to provide better results which appear as the search box is completed.
The widget can be added to any webpage and use an institutions feed. The code is available on GitHub. https://github.com/igsl/AX-S-widget
More details can be found on the project blog, along with a link to a live version of the demonstrator: http://alanepaull.wordpress.com/category/xcri/demonstrators/ax-s-widget/
I was delighted to be asked by Christine Geith, Karen Vignare and their team at Michigan State University to attend and facilitate at the Open Knowledge Convening linked to the AgShare2 project (which is supported by the Gates Foundation).
I've long been an advocate of the way AgShare has taken almost wonkish open education ideas around co-creation, student created content and multiple roots to discovery and applied them expertly to solve a pressing real-world issue. Openly available information and guidance to support farmers in sub-Saharan Africa is not just a nice-to-have, it's a need to have. There are literally no other ways that this vital information can be widely shared.
With a co-ordinating team at MSU, and support from organisations like OER Africa, the bulk of content creation is done by MSc students at partner institutions:
Haramaya University (Ethiopia)
Makerere University (Uganda)
Moi University (Kenya)
United States International University (Kenya)
Students work directly with farmers to capture and reflect good practices, which are then released as case studies (and in other formats) for the benefit of all.
As you would expect from Christine and her team, the event incorporated delegates and presenters from a range of backgrounds and from across the world. These included those working on the project, and others active in related work. I particularly enjoyed Peter Bannatyne's presentation on OER impact measures, which prompted a very interesting discussion, and Dr Dileepkumar Guntuku's presentation on delivering OER to mobile phones using voice and SMS. His live demonstration of the VoIP Drupal module was an amazing reminder of how very basic technology can be used to deliver information in remote areas.
I had been asked to facilitate a session on quality assurance in OER release, which meant I was able to talk about a lot of UKOER work where projects allowed students and end-users input into the design and delivery of resources. I was keen to emphasise that our experience had been that projects had been largely keener to use existing quality processes, for instance
Existing institutional processes around

teaching quality assurance

, where resources are used in formal teaching before being released.
Existing

web-copy processes

, where resources are included on institutional websites

Peer-review

(either formally for research-based resources, or informally where resources are published on blogs or social media.)

Authorial reflections and review

– where academics and content creators use the occasion of open release to critically reflect and improve on their resources.
And

assessed work

, where materials are created by students and assessed for academic credit.
There are different quality requirements for different models of OER release – for instance a project aiming to change cultures and promote open academic practice would need a very different approach to a project where content is commissioned and then released openly. Part of quality (and monitoring, and dissemination…) plans depend on why we are releasing material in the first place.
Sustainability came across as a another factor here – more complex and specialised (and possibly more robust) processes added an overhead cost which may be fine for project work, but could negatively impact the progression to unfunded work post-project. There were a lot of interesting proposals to build and sell value-added services on top of open media – there is a lot of mileage in this, but it rather goes against the reason a lot of people are attracted to become involved in open release in the first place.
After the meeting, I was pleased to have chance to catch up with Emily Puckett Rogers and Greg Austic, two openness advocates based in and around Ann Arbor, MI. One of the great points that came out of those conversations was the way that the expectations of the culture of universities was changing amongst those motivated to apply to them. Prospective students are beginning to expect openness as a default position from their institution, and this is a trend that can only become more important. Perhaps it is time to see institutions have the vision to make a high-profile commitment to openness?
Another brief interlude in the series of posts about #coursedata demonstrators.
On Tuesday evening I nipped down to the #BuildBrighton hackspace  for the monthly meetup of the Brighton Raspberry Pi user group.
For those who've been living in a hole for the last year, the Raspberry Pi  is a great little bare bones computer, very much in the mould of the 1980s home computing favourites like the BBC micro, and Sinclair ZX80. The board is about the size of a credit card (in fact it is exactly the size of a credit card) costs £25, and takes normal USB keyboard, mouse and plugs into an HDMI tv.
You can pop any operating system that takes your fancy onto a SD card, though most popular are a range of Linux Debian variants- like Rasbian.
At the meetup Chris Swan (blog.thestateofme.com, @cpswan) talked about the OpenELEC (Open Embedded Linux Entertainment centre) distribution of XBMC (XBox Media Centre) for RPi and MAME the popular arcade machine emulator, both of which really show off how powerful the tiny Pi is.
OpenELEC 3 is nearing completion, with XBMC 12. Once connected to a network with NAS (Network attached storage), it will stream and run music, video etc, much like an Apple Tv… but much cheaper.

OpenELEC is a stripped down Linux build, just enough to run XBMC, booting straight to XBMC. It has a minimal kernel, and drivers for TV receivers etc need selecting at build. Everything else goes on a SquashFS file called: system (read only, compressed) with a very small footprint, which fits into 256Mb – though this is now pretty academic, as storage has evolved, and is very cheap.
The evening rounded off with a 4 way LAN game of Quake 3 played on Raspberry Pi.
Afterward a conversation started on how the Pi can be used in education, and the artificial boundaries between different disciplines cropped up. When time is tight it's hard to build in capacity to teach and learn the additional skills needed to use something like the Pi, and sometimes the technology simply ends up with the IT folk.
However the push to encourage students into STEM (Science Technology Engineering and Maths) is growing in importance, as Prof Brian Cox mentioned in his BETT presentation, there is a need for a million STEM graduates just to keep pace with current demand.
Which brings me to the good news that Google have stumped up the cash for 15,000 Rasberry Pis to be given away to schools.
The Raspberry Pi Foundation will work with Google and six UK educational partners to identify students who will benefit from access to a Pi. CoderDojo, Code Club, Computing at Schools, Generating Genius and Teach First will be supporting the initiative, and OCR will put together 15,000 free teaching and learning packs to go with the Raspberry Pis.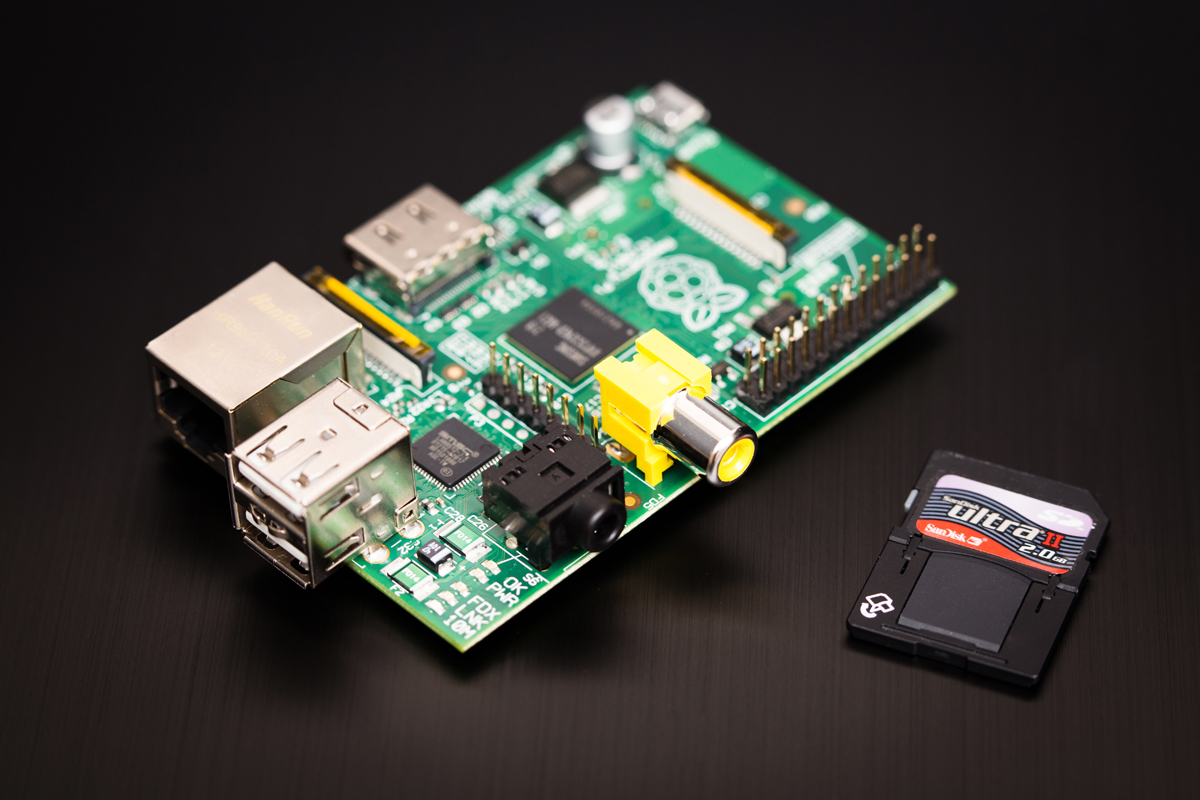 The Brighton Pi mailing list: https://groups.google.com/forum/#!forum/brightonpi